---
An exceptional logistics services provider for nearly 25 years.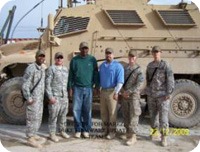 For more than two decades JBM has provided exceptional logistics services and support to its customers. From radars to counter-IED devices, from supply/maintenance support at NASA to aviation support at Special Operations Command (SOCOM), our team of logisticians, Field Service Representatives (FSRs), and program managers have worked tirelessly to support our customers and our warfighters at home and abroad. We deploy with our customers to austere locations world-wide to provide professional technical support and training. Our mission focused solutions are widely recognized as leading-edge, earning a sterling reputation through 1 1/2 million hours of deployed support to US warfighters and our allies, usually in technically challenging and hostile environments.
For nearly 25 years JBM has provided exceptional, full-spectrum logistics services and support to its customers at home and abroad:
Field Support in Austere Environments
Supply Chain Planning and Management
Maintenance, Repair, and Reset
Condition-Based Life Cycle Management Support
Focused Training Solutions
Want to know more? See our in-depth list of experience and accomplishments.  Or use this link to learn more about our Global Post-Sales Support & Services.
---
For more information on how JBM can help your organization, contact:
info@gojbm.com