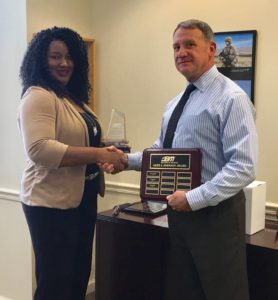 May 26, 2017: The Alex J. Johnson Award is presented each year to an employee demonstrating the core areas of excellence reflected by our founder, Alex J. Johnson. These core areas include leadership, innovation, operational excellence and outstanding customer service. This year's recipient is Sareeta Jackson. Sareeta was hired during Alex Johnson's tenure and exhibits the characteristics to receive this prestigious award.
Sareeta Snow Jackson has been with JBM since 2009. Her tenure began as a Receptionist; however, within a very few years moved on to become the Executive Assistant to the CEO. Continuing with upward mobility, her diligent efforts in study, hard work and determination demonstrated her ability to progress to her current position as IT Coordinator. Ms. Jackson always goes beyond the call of duty to get the job done correctly; provide outstanding customer service; and to foster positive relationships with her internal and external customers.
Over the past few years, JBM has asked Sareeta to wear many hats and she has performed exceptionally in each capacity. Recently when approached her with an opportunity to support a direct program and become partially direct billable, her initial question was "what do you need me to do"? Her willingness to pitch in where ever help is needed is a leadership quality that is undervalued.
Ms. Jackson is directly responsible for saving JBM thousands of dollars. She was instrumental in replacing our costly and often out of service phone system/provider with a high quality system, while still reducing JBM's annual cost significantly. In an effort to further reduce cost, Ms. Jackson brought our disaster recovery service in-house and spearheaded a server consolidation effort.
Sareeta regularly assists employees after hours with technical issues. She has received numerous positive comments on her professionalism and "can do" spirit. She is pleasant and extremely helpful to both her internal and external customers. On several occasions, Ms. Jackson has received accolades from past and present employees because of her willingness to assist and get to the root of the employee's (or ex-employee's) problem. She always demonstrates a willingness to learn and pitch in as a team player.
A top priority for Alex Johnson was his employees. Sareeta exhibits that strong characteristic of ensuring that her fellow employees are "taken care of".
Congratulations Sareeta – well deserved!